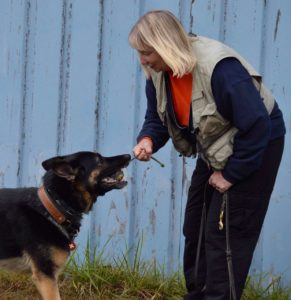 A successful handler has the knowledge to confidently support his or her dog in searches. Awareness of scent theory is key. Whether new to the sport or more experienced in training and competition, understanding how odor travels in varying environments will increase your ability to understand your dog's behavior. In this webinar, Donna will help participants to improve their skills by offering a deeper understanding of how odor behaves in certain locations, as well as in various conditions such as heat, cold, humidity, and rain. The importance of air movement will also be addressed. As more nose work trials open up in 2021, this webinar offers an excellent opportunity to increase your knowledge of scent theory and support your dog to success in searching for odor.
Donna Hreniuk's significant credentials include a long history of Search and Rescue experience, specializing in Human Remains Detection (HRD) work since 1989. She has also certified her dogs in other search and rescue disciplines, including air scent wilderness, water search, and disaster recovery.
Donna is the Training Director for the NJ Rescue & Recovery K9 Unit as well as one of its founding members. Donna's current K9 partner is Zeke, a German Shepherd, and certified HRD dog. She is co-owner of Sirius K-9 Solutions, a business that is involved in training dogs to locate various insects detrimental to the environment. Many know Donna as an active Judge, Supervising/Elite Certifying Official, and Certified Nose Work Instructor for NACSW. If you have volunteered at a trial and had the pleasure to work with her you will know how knowledgeable, patient, kind and fair she is.
With her many years of experience, Donna is a sought-after presenter on the topic of scent theory. This webinar is approved by NACSW for 2 CEUs for Certified Nose Work Instructors.
PLEASE NOTE:
This webinar will be provided to you on a Google Drive link. After purchase, please allow up to 24 hours to be granted access to the link. You will receive an email, with the link, when your access is activated. Link access will expire ONE WEEK after activation.
Email Lynsey with questions about registration.
Donna Hreniuk Webinar


March 7, 2021 - December 31, 2023




5:00 pm - 11:55 pm