[cro_halves_layoutstart]
If you know our Founder, Deb Norman (no one, but no one calls her Debbie, let alone Deborah), you might enjoy this update. If you don't, you'll enjoy getting to know her.
Deb is totally devoted to dogs. Yours, mine, everyone's. Her current four-legged family includes:
4 Border Collies
1 Shetland Sheepdog
1 Border Collie/Whippet Mix
1 Danish-Swedish Farm Dog
Plus
7 sheep
1 llama
2 chickens
A Danish-Swedish farm dog? Only a few hundred of them have made it to the U.S. to date. They are 12-16" high, and are great Flyball and tracking dogs. Deb's Trinket has just turned 2.
[cro_halves_layoutmid]
[cro_layoutend]
Deb's dog-training career parallels the growth of dog sports in the USA. Her first dog, Rori, a Belgian Tervuren, joined Deb's family in 1970. They trained and competed in obedience and conformation – which was about all Deb could find back then.
Over the next ten years, for most of which she was living in Canada, Deb continued competing in obedience and conformation. One day in 1980, a member of her dog obedience club showed up to class carrying a box that sported a "weird sort of arm with a can attached to it," Deb recalls. "If you stepped on a pedal, it would shoot out a ball, which the dogs would catch." The box was of course an early prototype of the Flyball box, which Deb fell in love with instantly: "Both dogs and people had a blast – the polar opposite of obedience." Since then, Deb's passion for Flyball has become legendary.
It wasn't until she returned to the US that Deb started training in agility at Suburban Dog Training Club. Soon Deb, along with her daughter Julie, formed a new club, "Best Friends," which emphasized positive reinforcement training. Early members included many familiar names: Diane Battis, Edie Williams, our sorely missed Lynn Hull, Sally and Larry Silverman, Katie Conn, Joyce Smuda, and the late Susie Ellis, devoted member and benefactor.
Deb's first training facility was in Chestnut Hill, in the basement of her church. The club was "nomadic," she says, trundling from church basements to community centers to friends' homes.
In 1999, the Best Friends Corporation announced a move into the area. Clearly, the club needed a new name. The coming millennium (the "Y2" crisis), inspired Deb to think of Y2K9s. Her colleagues loved it. And so we've been called ever since.
As Y2K9s grew, Deb and her colleagues began to look for a permanent home. Ultimately, they found warehouse space on Mermaid Lane in Wyndmoor. It was "covered with soot – a giant mess, filled with machine parts and junk. But Julie and I saw 200 feet of Flyball space." So they took a giant leap, from renting space at $60 a night to signing a lease with a monthly rental of $2,750 plus utilities. The move was a smart one, as Y2K9s built an outstanding group of trainers and an excited group of trainees. Deb is particularly proud that she and Julie came up with the novel idea of a "skills" class. At Y2K9s, handling, jumping, and contacts & weaves were all taught separately. "I think it's one of the reasons we attracted people from all over," says Deb.
Deb retired from Y2K9s in 2013, but she continues to raise dogs and train them. On 35 acres in a small town not far from Greensboro, North Carolina, she is realizing her dream of creating a brand new performance sports facility. A generously sized 85'x180' structure situated on a five-acre field, it will be fully heated and air conditioned, and feature premium turf flooring. She expects to break ground for it very soon, and will offer family and competition obedience, rally, agility, Flyball, disc, etc. – in other words, a full-service dog sports program.
Deb loves the rural quality of her property, and the luxury of total immersion in her animals and her land. And when the spirit moves her, she drives 20 minutes to Greensboro to enjoy performances of her beloved choral music, as well as theater and other arts.
Some retirement. Long may she enjoy it!
[cro_halves_layoutstart]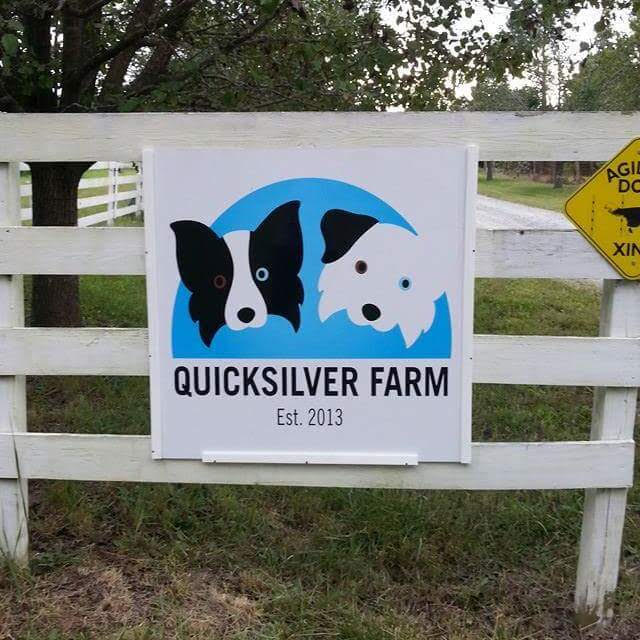 [cro_halves_layoutmid]
[cro_layoutend]
[cro_button text="Back to Chew on This Vol. 1, No.2" link="http://us9.campaign-archive1.com/?u=6e209ceaaa80d7f3a608371e7&id=baed600532" color="1"]